Greetings!
My name is Joseph Dissmeyer.
I have a Twitter account here, https://twitter.com/joedissmeyer, but I rarely use it. Nonetheless, I welcome witty banter :)
I'm a tech geek, work in IT, married to the most perfect person in the world to me, and have three amazing kids.
I love my family more than anything else in this world.
I love my job.
I love learning new things and new technologies.
I want to be the absolute best at what I do no matter if it is at work, at home, or in my community.
I strive to inspire others to be the absolute best version of themselves.
I love when people around me succeed! It inspires me to be a better employee, a better husband, and a better father.
I want to be a better Joey today than I was yesterday.
I know that I am not perfect so I don't try to be. But I do strive to do the right thing the first time, all the time.
This is the way that I live life. It is my hope to pass these values to my children so they too can inspire future generations to be better as well.
---
I wrote this book on SolarWinds NPM. Buy it on Amazon!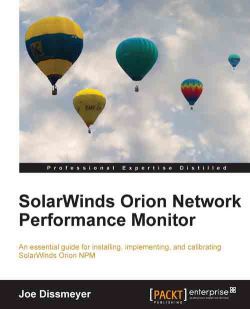 ---
Professionally, the following is a list of some of the projects that I have been a part of (in no particular order):
Adopt and train System Reliability Engineering principles
Architect and Engineer Elastic Stack clusters
Apache Kafka cluster scaling, integration, and management
Obvservability planning and implementation for private cloud instances
iPad and Android Mobile Device Management Solution
Evaluate and Deploy Cisco and Juniper VPN solutions
Large scale Meraki Cloud Managed Router, Switch, and Access Point Deployment
Migration from Exchange Server 2003 to Exchange Server 2007
Migration from Windows Server 2003 to Windows Server 2008 and Windows Server 2012
Sharepoint Server Engineering and Administration (3.0, 2007, 2010, and 2013)
Sharepoint 2013 Migration
Administrative scripting using VBscript, Batch Files, and Powershell
Google Apps for Business deployment, training, and administration
Windows Desktop Deployment with MDT, WDS, Symantec Ghost, etc.
Active Directory Design, Engineering, and Migration.
Desktop Configuration Management with Microsoft System Center Configuration Manager.
Evaluate, Plan, and Implement large scale enterprise observability systems including Microsoft System Center Operations Manager (SCOM), the SolarWinds Orion platform (NPM, SAM, NCM, NTA), and Spiceworks.
F5 BIG-IP Administration and Engineering
RightFax and Brooktrout Fax board engineering
IT Service Management software suite evaluation and selection including Service Now, BMC Remedy, Track-It, and ManageEngine ServiceDesk.
Microsoft Hyper-V Deployment and Design
VMWare ESXi infrastructure engineering
Microsoft Active Directory Domain Migration from Windows Server 2003 to Windows Server 2012
Server migrations to Windows Server 2012 R2
Build, deploy, and maintain internal IT knowledge bases
Enterprise monitoring with Elasticsearch and the Elastic Stack
Web API Monitoring and Analytics
Apache Kafka deployment
IBM WebSphere performance tuning and administration
Centralized application log management
Set up Application Performance Monitoring (APM)
Architect and instrument Web Application Tracing